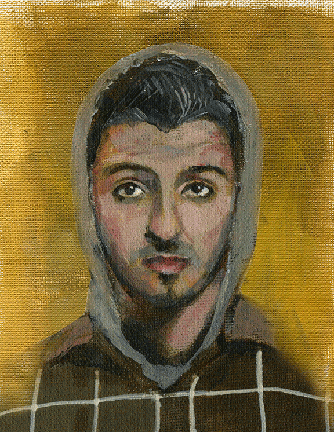 why did we make a new nativity scene?
Christmas isn't just about celebrating something that took place 2000 years go. It's also an invitation. It's an invitation to get in on what that crazy story about a virgin birth, shepherds, and baby Jesus is all about: that God is here, with us and for us, leading us towards new life and a new world.
Sometimes we miss out on that with all that Christmas has become and we wanted a Nativity scene that helped draw us into that invitation.
We were so fortunate to have church member (and phenomenal artist!), Larry Stilwell, update our nativity scene with this new modern touch.
By contemporizing some of the traditional imagery and by decolonizing some of the characters, the hope is to create a scene that sparks curiosity, engagement, and wonder, and causes people to hear that invitation and enter into this story in a new way.
the artist, larry stilwell's, inspiration behind the images
"Annually Christians return to find the awe in the nativity but encounter the same old visual references.
Since the 14th century, European master painters have formed our visual opinion of what the nativity looks like, thereby shaping what it can mean.
As a Christian I embrace the values of inclusivity but haven't found those values reflected in traditional nativity scenes.
So, I chose to step away from tradition and develop a nativity installation that comments on homelessness by giving the stable a temporary, intentionally unsubstantial feel, a physical reflection of the emotional state of a presumably teen mother in an occupied land. Joseph is stoic but off guard.
The shepherds are poor teens reflecting a reality of 3rd world shepherds today.
The magi, in contemporary dress, reflect cross-cultural wisdom.
The Angel, the bringer of the good news of Christmas, holds a shofar and stands at the entrance, beckoning all to come in.
The intent of this scene is to invite the observer to engage and re-discover the awe and wonder surrounding Jesus' birth and what it means for us. The viewer, intentionally fixed in the eyes of all participants is at the threshold, is being asked: are you in or out?"
what do these images mean?
There's some info behind each image.
For many of them the artist wanted to leave it open, letting you make up the stories behind them.
He kept Mary and Joseph looking young and overwhelmed, but wanted portray their dedication to what God's asked them to do. Joseph is dressed in your typical labourers outfit.
For the Shepherds, they are meant to reflect both current day and ancient workers who were stigmatized and dehumanized.
And the Angel is holding whats called a shofar - its this trumpet that was typically used to proclaim good news and hope to people.
who are these magi?
As a group they personify diversity and inclusion.
The tall male Magi with the dreadlocks is songwriter and musician, Michael Franti known for his messages of love and hope through song. He brings the gift of music.
Some interpretations of the "Wise Men" were that they were thinkers and astronomers. So the female Magi is Dr. Roberta Bondar, Canada's first female astronaut, a healer and space explorer. Hers is the gift of knowledge personified in the "Milky Way" constellation she is holding.
The third Magi, offering a symbol of warmth and teaching with his gift of a blanket, is the current National Chief of the Assembly of First Nations, Perry Bellegarde of Treaty 4 territory.